Aeron X - innovative bicycle disc
For whom Aeron X?
Every day is a new challenge.
Accept the challenge and win yourself.
We are here to help you win this battle. Battle against the wind, against time, battle against your rivals.
AERON X is speed weapon on every competition from short time trials to full IronMan distance.
For professionals

For amateurs

For triathlon

For Cycling

For timetrial

For ironman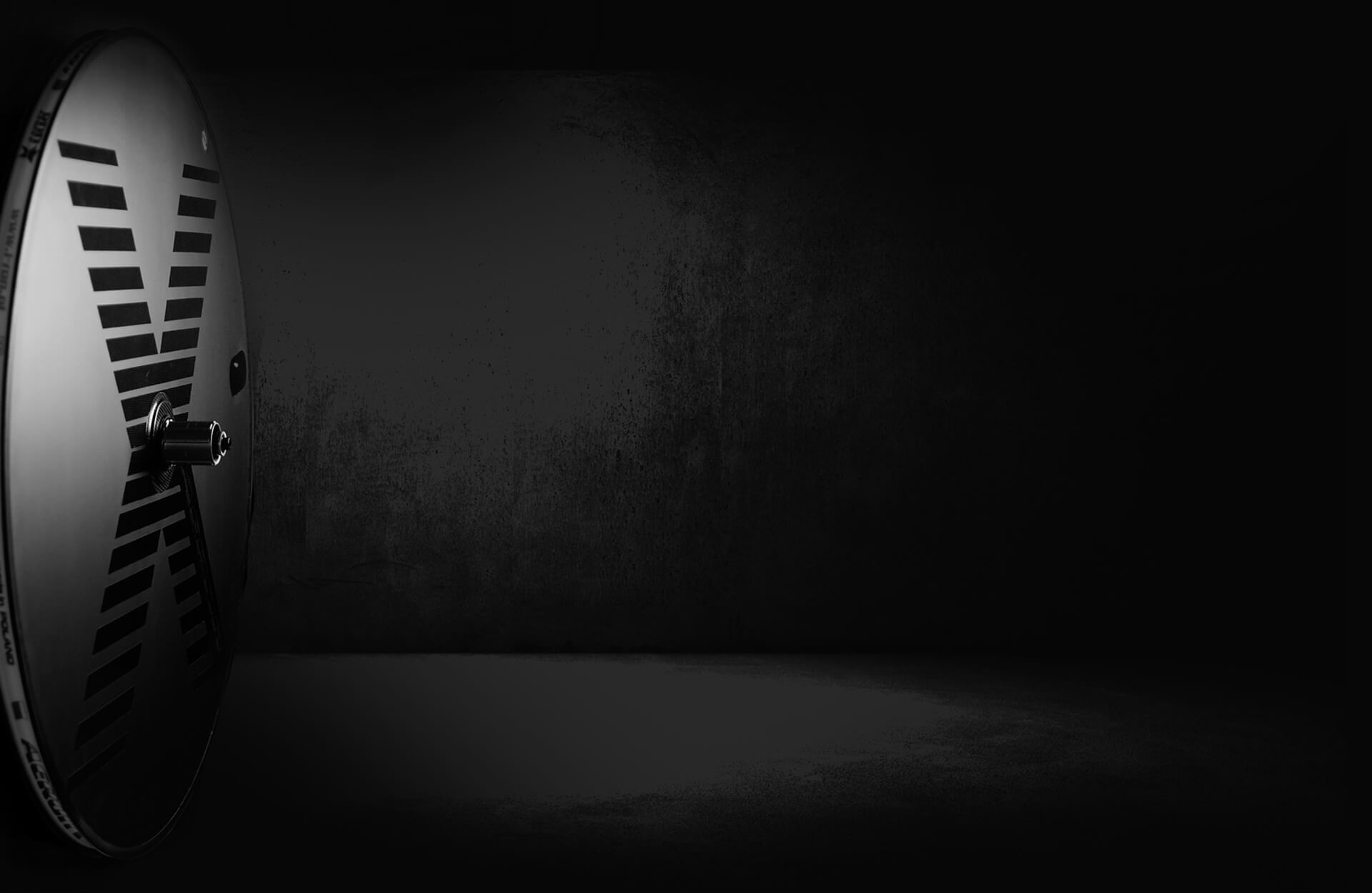 Features
SUPER LIGHT

6 years of experience in disc wheels production has allowed us to construct a disk compatible with the tubeless system, which weighs only 1100g, positioning it in the world top.

The latest version of the AERON flagship wheel is now 13% lighter. This was achieved thanks to the innovative laminating technology of HMLSX plates and specially designed carbon rim.

HMLS X- unique technology of multi-layer laminate disc plates developed by RON in lates 6 years.
each plate consists of 12 precisely applied pieces of carbon from 3 different fibers, including high-mod fibers and foam corre

AERODYNAMIC

The asymmetrical, lenticular shape responsible for the optimal airflow around the wheel is already proven in the previous version of the AIRLense3 technology.

We equipped AERON X with XaeroSkin technology, this structured surface with kind of hex dimples that creates turbulent boundary layer and that serves to keep the flow attached to the surface reducing drag by 4-5 %.

DISC BRAKE OPTION

Disc brake AERON is the result of 2 years development process, totally new construction with redesign plates shape fit perfectly into modern frames with disc brakes. Thanks to disc brake specific rim design wheel is 27mm wide to be compatible with wider tires. Wheel is equipped with a centerlock rotor mount.

CERAMIC BEARINGS

Ceramic bearings reduce power losses by reducing friction. Ceramic bearings are up to 40% lighter than steel bearings. Ceramic bearing elements are harder by more than 50% from steel, thanks to the possibility of a lubricant with lower viscosity. Resistance to deformation prevents deformation of the bearings and thus prevents excessive friction and increase their life.

TUBELESS

The TubelessEasy 25,6mm carbon rim creates a compact set with the tire, providing better aerodynamics.
Higher speed, comfort and puncture resistance. By selecting a tire with high performance and appropriate pressure, you can achieve lower rolling resistance and higher speed. Tubeless also allows significantly lower tire pressure, providing greater comfort, traction and performance, especially on poor surfaces. The lack of interaction between the tire and the inner tube eliminates rolling resistance.

HEXSTOP

HEXstop technology for our carbon rims is laser engraved hexagonal pattern that improve braking performance, heat and water dissipation. This solution combined with high-temp resin technology provides uncompromising braking performance in every condition and guarantees safety.
Comparison with other products
weight
price
tubeless
ceramic bearing

AERON X

1100

€

1199

x

x

ZIPP Super-9 Carbon Clincher
1175
€ 1 650
x
HED Jet Black
1272
€ 1 303
x
Roval 321
1005
€ 2 233
x
ENVE SES Disc wheel
1225
€ 2 441
x
HED Vanquish
1143
€ 2 387
x
0 gram weight

0 mm rim width

0 different colours

0 km/h faster *

0 min time saving on 70.3 distance**

Up to 0 of drag
* Compared to the standard road wheel. 300w ride** estimated for 250w ride
1099 €
849 €


Set contains:
Wheel (shimano/sram)

Pumping adapter

QR skewer

Tubeless tape (instaled)

Tubeless velve

Wheel bag
Optional:
Campagnolo/ Sram XDR 12s - cassette body + 39 EUR

Tubeless tyre installed (Continental GP5000 TL/ Schwalbe Pro One) + 75 EUR
Click and choose the best offer
Testimonials

Ron Aeron X Disc is an incredible value with unexpected quality.

The Ron Aeron X Disc Wheel also has incredible upgrades like ceramic bearings in a wheel that costs almost half of what you'll find with comparable competitors. Even more shockingly, this wheel is made in Poland, not China.

@triathletemag @triathletemag

Looks great and rides good. Solid disc from #ronwheels for cheap money.

@2daddytri @2daddytri

I got a disc from them a few months back. Apart from that its all good. Exellent value for money.

@Marc Barrow @Marc Barrow

Top quality made in Europe, best price and great aerodynamic performance.

Makes you even faster.

@theappel @theappel

It is not only light and price competitive but also very convenient to use.

The aluminum braking surface makes it easy to stop when it is wet. Aeron is fast.

@tri_w_kolorze_blond @tri_w_kolorze_blond
About Us
RON company was founded in 2012 by young triathlete and his father.
We are wheels brand whose entire production is located in POLAND. All elements of our wheels from the specially designed aluminium rim, through carbon plates, up to packing and distribution takes place in one factory. Thanks to these rigorous requirements, our wheels certainly match up quality with the best brands in the world and their price remains unrivalled
There are no Chinese wheels
0

specialists

0

years of experience

0

discwheels generations

Over

0

satisfied clients